Welcome to Leg Kick TKO, a MMA blog that's stupider than Nick Diaz Promotions Presents: WAR MMA.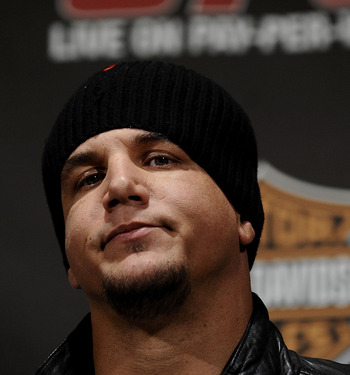 SMUG MUG
Holy cow, look at Francisco Santos Mir III, being the absolute smuggest motherfucker in the entire history of the universe's existence.
SMUUUUG
That is a man that is always impressed with his own performance, and is in constant doubt of your abilities.
RAD TAT, FRANKLIN
This is a man what has a flaming rhinoceros samurai riding a motorcycle tattooed across his back.
OH GOD, IT'S TOO SMUG!
A man that has named his own children, the spawn of his loins, Kage and Ronin Maximus Mir.
GIF via https://twitter.com/ZProphet_MMA
He is a man that has reached the towering heights of submitting Antonio Rodrigo Nogueira, and plummeted to the depressing lows of getting knocked out by Marcio Cruz and Ian Freeman (The latter of which happened
while Mir was attempting to finish a leglock
, which is the most hilarious outcome).
GIF via https://twitter.com/ZProphet_MMA
Frank's smugness is so severe that he even makes his smug face during fights he is in the process of losing. I wonder if it's actually a brain disease he has instead of just an inflated sense of self worth (Though, I guess those are pretty similar).